The Board of Directors of the Pacific Foundation for Blind Children has established an endowment in the name of Val Ogden, a former State representative and a long–time supporter of the Washington State School for the Blind. Val was a primary sponsor of the Braille Bill, passed in 1996, which promotes Braille literacy for students in Washington State.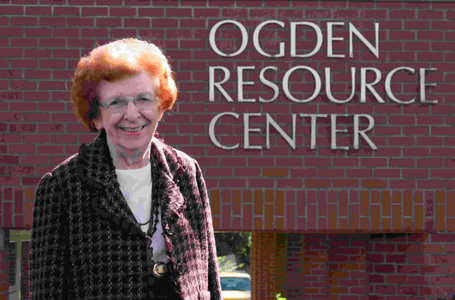 The Val Ogden Society for the Blind is an integral part of the PFBC's giving program. Donating to the Endowment is an excellent way to help students in Washington who are blind and visually impaired excel, while at the same time honoring Val Ogden for her tireless support of Braille literacy.
Programs such as the Braille Access Center and the Instructional Resource Center, both headquartered at the Washington State School for the Blind campus in Vancouver, Washington, have blossomed under Val Ogden's leadership. The Braille Access Center produces high–quality Braille materials including textbooks, workshop materials, newsletters, flyers, and voter pamphlets, which are distributed throughout the United States. The Instructional Resource Center provides advocacy and support for the educational needs of students who are blind and visually impaired, including services to all schools and agencies providing educational programs under college level, such as:
Braille texts and materials
Large–print texts and materials
Educational aids
Enlarging services
Braille transcription services
Out–of–state interlibrary loans
Through the Val Ogden Society for the Blind, the PFBC provides funds and support to persons, programs or projects that enhance educational and employment opportunities for individuals who are blind and visually impaired. We are committed to making financial resources available to help every student who is blind or visually impaired access to the tools, skills and training necessary to enjoy an independent lifestyle.