Visualize a gorgeous day, 34 hot rods and classic cars, 38 Rod Rally Volunteers, and 65 riders, throw in a BBQ and you get the recipe for a really good time.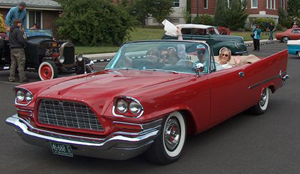 Tom Mears and Steve Runyan came up with the idea to mix the joy of cool cars with the students at the Washington State School for the Blind navigating while practicing their Braille and reading skills. The idea took off like a souped-up coupe.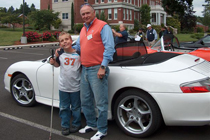 Each June, volunteers are paired with WSSB students who direct the drivers on a route using Braille and large print. This year, our Third Annual Rod Rally on June 12, 2008, took the group to Krispy Kreme for a fresh doughnut.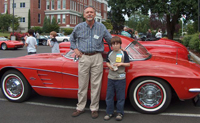 Students enjoy many recreational activities throughout the year including horseback riding, tandem cycling, snowmobiling, and skiing. The Rod Rally rates high on the charts for all time favorite activity for students, drivers and staff. "It is really cool!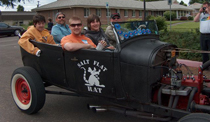 We will never get to drive cars, but we get to be in the passenger seat and navigate some of the coolest cars you will ever get, plus we get to blast the radio when we are done and meet Tom Mears, the owner of Burgerville," said Jacquie Patching who navigated with Tom Mears last year and Dick Baker this year.